An exclusive location in Monte Porzio Catone
A gem of a winery set among vineyards with the Eternal City as a backdrop
The atmosphere and charm of an ex-barrique cellar
With rows of wooden barrels used for ageing the wines, alcoves full of fine vintages and vine leaf decorations on the ceiling, Barrique Spazio Eventi has preserved its past.
It's a story that coexists with the contemporary interior, styled in black and gold and furnished with designer tables and soft lighting.
The interior and exterior are perfectly balanced in a fusion of natural elements: earth, stone and sand.
At Barrique, the bond with the terroir is a recurring theme.
Step inside and breathe the air of this bucolic location, surrounded by a wisteria-covered balcony and nestling in the protected woodland of the 'Castelli Romani' regional park.
Walk down the corridor lined with artworks, the result of a long process of veneering precious metals. Fragments that seem to highlight the symbiotic relationship with the earth itself.
Barrique Spazio Eventi bears the signature of the Mama Design studio, while the landscaping was carefully curated by Nature e Architettura.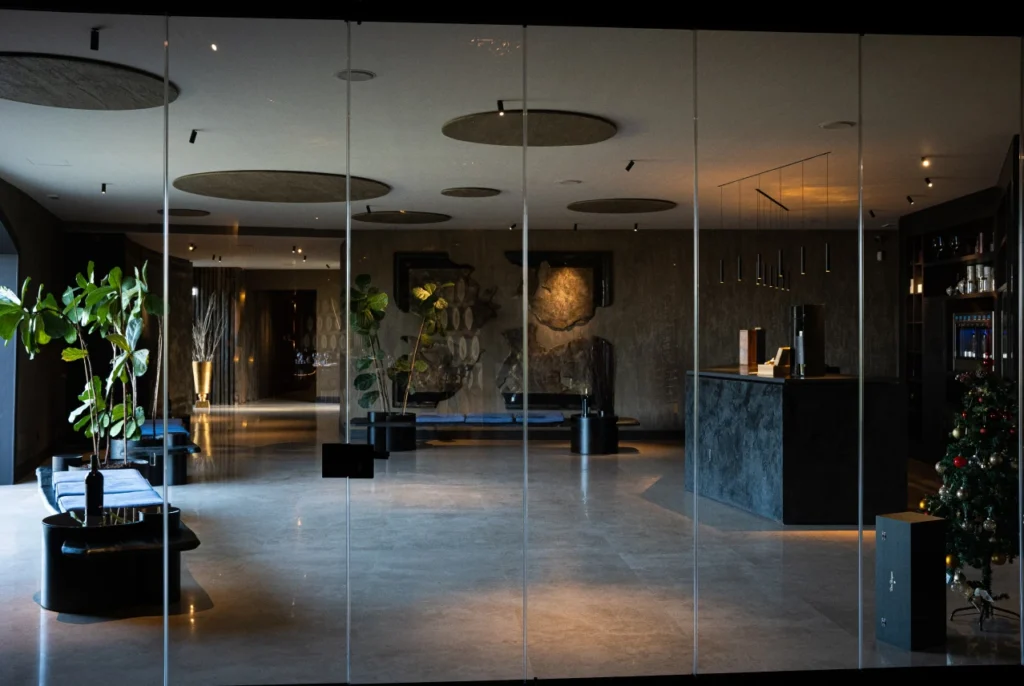 The Poggio Le Volpi vineyards
The substance of Barrique Spazio Eventi is the earth, alive and fertile.
The large windows draw the gaze inevitably towards the beautiful pink horizon beyond the Poggio Le Volpi vineyards – the home of exquisite vintages. Day and night, this magical view extends over a hundred hectares, creating the perfect backdrop for your event, just a short distance from the centre of Rome.