Wedding day approaching, but not sure what's on-trend at the moment?
Let's find out!
You'll already know that, as with fashion, trends and tastes are always changing when it comes to weddings, which are influenced by the society and times we live in. Although each trend has its own specific style, the bride and groom can draw inspiration from a trend to put their own stamp and signature on their big day.
This is what 2023 is all about: choosing a trend of the moment and then customising it to unleash your personal flair and creativity.
The wedding themes most in demand for 2023 are the intimate, romantic ceremony, the eco-friendly 'green' nuptials and, of course, the ever-popular luxury wedding.
Trend of the moment: intimate and romantic 
Top of the request list this year is the intimate, romantic wedding, which involves a small or symbolic ceremony followed by a small-scale reception with close friends and family.
Perhaps it was the pandemic that made us realise the importance of simple things and the affection of our nearest and dearest. Increasingly, couples opt for intimate ceremonies to spend more time with each guest and enjoy a relaxed, carefree day.
Smaller weddings also give you a wider choice of venue, as well as the chance to create an atmospheric space curated down to the last detail.
Barrique Spazio Eventi in Monte Porzio Catone, part of the Roman Castles regional park, is an exclusive location that's well-suited to the smaller wedding with up to 100 guests.
Eco-sustainable nuptials: the wedding of choice for the new generation
Young people are now at the forefront when it comes to sustainability and caring for the environment.
The green theme starts with the invitations, often made from recycled or plantable handcrafted paper, whose fibres contain flower or vegetable seeds.
An even more sustainable and modern choice is to send out the invites by email or even Whatsapp, using personalised graphics or photos and videos to tell the story of the happy couple. At Barrique Spazio Eventi, we can also help you prepare the invitations, by providing you with a graphic designer and video maker.
The location of the reception is another important element: choosing a venue suitable for a civil ceremony, or somewhere fairly close to the church, is the most logical way to reduce your environmental footprint and avoid travelling by car.
There's no shortage of options: an agritourism holiday farm or country house will give you that rustic setting with views of nature, or you might prefer to hold your wedding at a villa nestling amid hills or vineyards. In short, you'll be spoilt for choice!
The luxury wedding: a must in 2023
Opulent weddings are back in vogue this year. The keyword here is luxury. Couples choosing this type of wedding certainly don't want to go unnoticed! They want to be the centre of attention – at least on this, the most important day of their lives – and every detail is meticulously crafted to give their guests a stupendous setting.
From the choice of church or venue for the civil ceremony through to the colour schemes, flowers and wedding theme, the dishes on the menu and the keepsakes: everything must be studied and customised to guarantee the ultimate in elegance and sophistication.
And Barrique really has the last word when it comes to elegance, with its black and gold interior decor, designer tables, soft lighting and the rows of wooden barrels used to age our Poggio Le Volpi wines.
Our wedding palette for 2023
Reflecting the nature theme and focus on sustainability, the trend of the moment is green, in all its shades, paired with cream and milky white.
Then we have the timeless hues of purple, sky blue, dusty blue and dusty rose, or warm earthy tones such as orange, red and yellow.
Barrique Spazio Eventi: the perfect location that meets your every desire!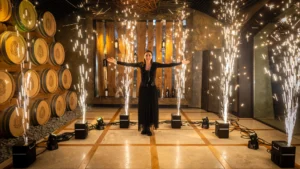 Our location offers the ideal atmosphere for your wedding ceremony.
Wedding planner Rossella along with all the staff at Barrique are ready to fulfil your every wish and make your big day truly memorable.
We'll set up the reception room and take care of every detail to ensure your wedding day is magical and unforgettable, with an extra touch that makes it unique.
Contact us for more information!